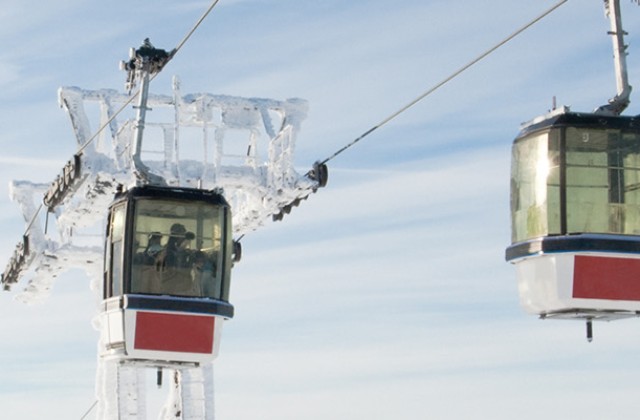 Comply with laws and the manufacturer's instructions for the safe operation of the installation
Ski lifts and cable railways
Your partner for a safe facility.
Operating a lift installation means that you must comply with laws and the manufacturer's instructions in order for the installation to function safely. We also know that preventive maintenance saves both time and money.
Taking care of the lift system reduces operational disturbances. By law, the ski lift/ropeway must be inspected once a year according to BFS 2011:12-H12. In addition to the inspection, the wire rope must undergo a mag-net inductive rope test at given intervals depending on whether it is a drag lift or ropeway.
Ski lift inspection includes:
General status/condition of the ski lift/ropeway.

The masts are inspected with the associated roller batteries.

The safety system is tested to show us that the lift stops in the event of a derailment or ground fault.

The rope and rope clamps are tested provided they are in the correct time interval.

Inspection of the lift street with signage and clearance measurements.

Check that service and maintenance is carried out according to the manufacturer's instructions.

That rescue equipment and evacuation plan are available on the lifts that require it according to BFS 2011:12-H12.

Magnetic induction rope testing, MIP
With magnetic inductive rope testing, we obtain indications of internal and external damage to the steel rope and how corroded the rope is. We perform the MIP test according to SS EN 12927-8 and have equipment that takes dimensions between 12-70 mm. We also have an openable equipment for testing wire ropes on cable cars/gondolas. DEKRA Industrial AB is accredited by Swedac in Sweden and by Statens Jernbanetilsyn, SJT, in Norway.
We perform about 300 tests per year in Sweden and Norway. Our staff who perform the MIP tests have several years of experience and have built up a solid knowledge to be able to make a correct assessment of the status of the steel link.
DEKRA Industrial AB
Gamlestadsvägen 2
41502 Göteborg