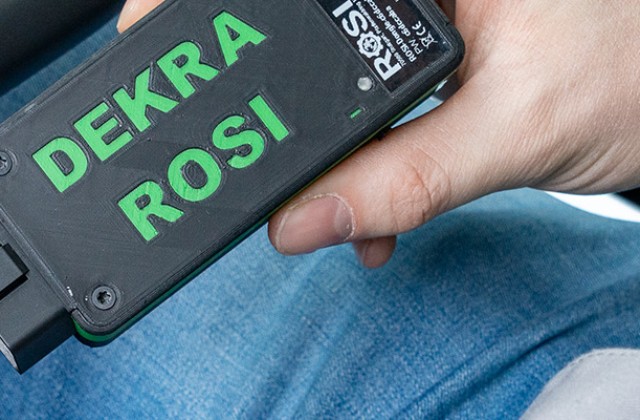 Analysis of the health of the battery in an electric car in 15 min
Battery test for electric cars
DEKRA launches unique battery test for electric cars
Should you buy or sell an electric car? Now you can find out how the battery is doing through DEKRA's unique battery test. DEKRA measures the health of the battery and reproduces the result on a scale of 0-100, in just 15 minutes.
It is becoming increasingly important to be able to quickly evaluate the battery condition of electric cars. The need is above all greatest in the growing market for used electric cars, as the battery is considered the most expensive component in an electric car. That makes battery health, or remaining capacity, a critical factor in determining an electric car's value.
DEKRA is therefore launching a new service that makes it possible to easily assess the value of the battery's state of health, SoH. Anders Gagner-Geeber is CEO of DEKRA Automotive AB;
- Our solution provides an independent result on the health of the battery that you can trust when you use, buy or sell a used electric car.
At the DEKRA test facility, factory-new electric car batteries are tested to obtain an initial value of the battery's state of health. The results are entered into a database and used for the patented algorithm for calculating SoH. Each electric car is unique and each car model must undergo a week of rigorous testing in DEKRA's development unit in Germany.
Fast, easy and reliable
DEKRA's unique battery test consists of two parts. A statistical test where you first read data from the electric car's OBD socket using a dongle. In the subsequent dynamic test, the electric car is accelerated from standstill to around 40 km/h with the measuring equipment installed. The test takes a total of 15 minutes and is carried out at one of DEKRA's inspection stations.
- The big advantage is that we can provide a very reliable assessment in a very short time. No one else on the market offers such a fast method today, continues Anders Gagner-Geeber.
Overall, the static and dynamic test gives a result that reproduces the degradation of the electric car's battery. On the scale, 100 means the battery is brand new.
A used electric car shows a lower value due to factors such as age, number of charges and mileage.
The state of health of electric car batteries decreases relatively evenly at first, but after the battery has lost 20–30 percent of its initial capacity, the state of health falls faster. The loss of both range and performance thus has a greater impact on the car's usability.
Increased security for buyers and sellers
With DEKRA's battery test, the state of health can not only be accurately measured, but also give a clear and comparable result on the actual battery capacity and thus an indication of where the battery is in the degradation process. This allows you to compare the test results between different electric cars, which provides a unique opportunity for buyers of a used electric car to reliably compare different electric cars with each other.
DEKRA's battery test will be just as important in the assessment of a used electric car as today's product declaration, VDN. A knowledge that is invaluable when buying a used electric car.
- This is good news for car dealers, leasing companies and private individuals alike, as it provides a basis for more transparent sales negotiations, concludes Anders Gagner-Geeber.
What factors affect the aging of an electric car battery?
Battery age is not only a function of linear time (calendar age) but also of the cycle of charge and discharge (cyclic age). As the battery ages, its capacity gradually decreases, affecting the vehicle's range. Aging of the drive battery in an electric car means deterioration of the battery's properties. In addition to aging, high temperatures, overcharging (high voltage), deep discharge (low voltage) and high charging current affect the health of the EV battery and consequently its capacity.
Why is it important to know the remaining capacity of an electric car battery?
How does this battery test for used electric cars differ from other tests?
Are there any specific prerequisites for testing?
How exactly does the test work?
What does the report contain and how do I get it?
What vehicle types can the battery test currently be performed on?
About DEKRA
DEKRA has been providing security since its inception over 90 years ago. With passion and expertise and with 44,000 employees worldwide today, we are forward thinking for safety.

On the move, at work and at home - DEKRA's skilled experts create increased security in all key areas of life. We ensure the safety of human interaction with technology and the environment, especially when it comes to digitization.
Interest form
DEKRA launched the battery tests for electric cars for partners and car dealers in 2022.
If you are interested in knowing more, fill out our interest form and we will contact you.
DEKRA Industrial AB
Gamlestadsvägen 2
41502 Göteborg